The HVAC Experts in Pataskala, OH
Free Diagnostic Service Call
Pataskala Heating, Cooling & Air Quality Services
Five Star Pataskala Furnace & Air Conditioning is the top-ranked HVAC contractor for Heating, Cooling, and Indoor Air Quality repair, maintenance, installation and replacement in Columbus, OH, and surrounding areas. We aim to provide a Five Star Experience to every homeowner across the Greater Columbus Area. We let our results speak for themselves in our countless reviews and near-flawless ratings, so trust the experts at Five Star today.
Why We Love Being the HVAC Experts in Pataskala, Ohio
Located 19 miles east of Columbus, Pataskala is a great place to live for the country feel without going too far away from the city. Without being affected by the hustle and bustle of city life, Pataskala has been able to keep its Midwest small-town and slow-paced charm. As a result, Pataskala is considered to be the "#2 Place to Live in Licking County." Despite being located away from the city, it is still rich in diversity within its schools and neighborhoods. In addition, Pataskala is a very low-crime area and is exceedingly safe, making it the perfect place for a new family to settle and establish roots.
Pataskala is best known for its all-inclusive community events, including the annual Easter egg hunt, the summer's annual street fair, Pataskala Farmers Market, and even Main Street Christmas display and lights. Furthermore, Pataskala is home to one of the most beautiful gardens located in Ohio. Which allows residents and visitors can take a garden tour led by the West Licking Historical Society.
Just like the city, Five Star Pataskala Furnace & Air Conditioning is rooted deep in its history and strives to be a trusted HVAC household name. We have been family-owned and operated for over 50 years! We take pride in our work and business model through every job we do. We encourage you to give us a call and Experience the Five Star Difference!
Why Choose
Five Star Pataskala Furnace & Air Conditioning

for Your HVAC Services?

When it comes to picking a trustworthy HVAC company that is budget-friendly, it's crucial to find someone local and reputable who won't break the bank. Homeowners should choose a company that offers HVAC solutions that don't compromise quality and understands this choice affects the overall future of their home. This decision should not be taken lightly, especially because this piece of equipment controls the comfort of your home. Since your HVAC system will be part of your home for many years to come, it's important to purchase your HVAC system through a company that puts its customers' comfort first.

At Five Star Pataskala Furnace & Air Conditioning, we do just that. We put our hard-working customers above all else. HVAC stands for Heating, Ventilation, and Air Conditioning, and we guarantee that our products and services will be of the highest quality. Moreover, we offer additional advanced heating and air services, including indoor air quality. As a part of our Five Star standards, we will leave every job with 100% satisfaction and our customers knowing that they put their home's comfort in the right hands.
Pataskala Heating Services
We provide a variety of expert services on any brand-name furnaces, including a complete installation, heat pumps, repairs, and even emergency heating services. Our team is comprised of dedicated, friendly, and NATE-certified technicians. Additionally, all of our technicians are fully insured, so you can be sure you are getting the most reliable HVAC services from A to Z. There are many reasons why we are called Five Star Pataskala Furnace & Air Conditioning, but primarily because our reputation speaks for itself. We have Five Stars across the board in customer satisfaction, pricing, experience, and so much more!
Our list of heating services include:
Residential Cooling Services in Gahanna, OH
Let's face it; we have all come to heavily rely on our Air Conditioner Units to keep the temperature inside our homes cool and comfortable when the weather outside is unbearable. However, if you find yourself wondering, "How long do air conditioners last?" the answer is simple. A typical A/C will last 15 to 20 years, given that you keep up with its proper maintenance. Unfortunately, when being a homeowner, an A/C breakdown tends to be inevitable.
Luckily, your friends at Five Star Pataskala Furnace & Air Conditioning are here to help! We provide homeowners with a vast amount of options when it comes to your home cooling services, including Air Conditioner Repair, Air Conditioner Installation, seasonal Air Conditioner Maintenance, and much more! We go above and beyond your expectation; we provide you with satisfaction.
Residential Indoor Air Quality Products & Services in Pataskala, OH
Many case studies conclude that poor air quality is closely related to as many as 100,000 premature deaths in the United States each year. Due to the fact that the air we breathe is an essential quality of life that we need to survive, we take this matter seriously. Since this information has surfaced, more homeowners should be considering Indoor Air Quality options to maintain a healthy environment for everyone in their home.
Just a few short decades ago, Indoor Air Quality (or IAQ) inside residential homes wasn't a primary concern or a concern at all. Up until recently, families smoked in their homes without any regard to how it was affecting their overall indoor air quality or their health. Many individuals used to write off their bad air quality symptoms as a common cold or asthma. As time has gone on, countless homeowners are starting to feel and see just how important their IAQ is and how it affects their health on a daily basis. As a result, old and new homeowners are starting to understand the risks of bad air quality and are beginning to take their Indoor Air Quality seriously.
If you suspect an IAQ problem within your home and would like to learn more about why your home's Indoor Air Quality is important, give Five Star Pataskala Furnace & Air Conditioning a call. On top of that, we can also perform a home air quality test to determine the next course of action that should be taken to improve the Indoor Air Quality in your home. Including but not limited to investing in-home humidifier systems, dehumidifiers, UV light, air purifiers, and much more will improve the overall health of you and your family.
Signs of Poor Indoor Air Quality Include:
Unpleasant Odors
Hot and Cold Spots
Dust Buildup
Cold Symptoms That Don't Go Away
Mold & Mildew
Expert Thermostat Services in Pataskala, OH
Five Star Pataskala Furnace & Air Conditioning is one of the leading companies in offering a wide selection of wifi thermostats and smart thermostats. The most common among homeowners include the Google Nest Thermostat, Honeywell Thermostat, and the Ecobee Thermostat. If your HVAC system is running with an old thermostat, it may be time to upgrade your current thermostat to a more modern thermostat. These thermostats will pay for themselves in no time by saving you energy, time, and money on your monthly utility bills.
Furthermore, these thermostats are user-friendly and include the most up-to-date technology that can learn your temperature preferences and create a schedule to fit your comfort needs. On top of that, you can also connect a mobile device to your residential thermostat so you can adjust the temperature while you are away from home.
Our Wi-Fi Thermostat Installation Deal Includes:
Thermostat itself, installation, set-up
Education from a trained expert on how to use
Wi-Fi enabled to allow for remote access
Free app for Android and Apple devices
Universal compatibility works with any system
Five year parts warranty
One year labor warranty
and more!
We're the Top-Choice for Humidifier Services in North Columbus, OH
Here in Ohio, when the cold weather from the winter begins, the air outside as well as inside our homes gets noticeably dry. This dry air isn't good for our health nor the air quality within our homes. When dry winter air seeps into our homes, it can create a number of problems like damage to the homes' woodworking structure or generating too much static electricity, which ultimately is terrible for all electronics inside our homes. On top of that, when the air inside your home is dry, it won't properly hold heat. This forces your HVAC system to work harder to provide your home with warmth and comfort.
However, lucky for us, there is a way for homeowners to keep their homes safe, warm, and cozy. Since air holds heat better when there is moisture present, a whole-home humidifier is one of the best things you can invest in. A humidifier helps generate moisture that the air inside your home needs in order to retain the hot air to heat your home. There are many humidifier benefits such as your overall health, better sleep, comfort, and saving homeowners money by lowering their monthly utility bills. This is because your home heating system isn't working on overdrive to provide a heated and cozy home. If you notice dry air in your home when the winter weather rolls around and have questions about what brands make the best humidifier, how to clean humidifier, or the benefits between an air purifier vs humidifier, call your friends at Five Star Pataskala Furnace & Air Conditioning today!
Check out our Whole-Home Humidifier Installation Deal:
Includes humidity control
Five-year factory warranty on all parts with a one-year warranty on all labor
Only good for homes up to 4,000 square feet
Homes larger than 4,000 square feet will have an additional charge
Offer good for only forced-air systems only
Dehumidifier Services in Pataskala, OH
On the other hand, when the summer weather hits in Ohio, the air becomes hot, humid, sticky, and utterly uncomfortable in the snap of a finger. Therefore, when the summer weather begins to take effect, it's essential for our homes to be equipped with an excellent and reliable cooling system. But despite having a proficient AC, sometimes one system can't keep up with the hot summer temperatures, especially when the relative humidity level goes above 50%; this is when a dehumidifier becomes increasingly valuable. There are several advantages to owning a dehumidifier air purifier, including lowering your monthly utility bills and prolonging the life of your HVAC system.
At Five Star Pataskala Furnace & Air Conditioning, we offer the complete line of Aprilaire dehumidifiers at an affordable price. The Aprilaire brand happens to be the highest quality dehumidifier on the market. Because of the fact that it has a Five-Star reputation of being a very quiet dehumidifier and is the best dehumidifier for a basement. Nevertheless, if you are concerned about your home's indoor relative humidity level, give us a call, and we can provide dehumidifier products that will fit your home and your budget.
Whole-House Air Cleaners & Media Air Filters Services in Pataskala, OH
If you are considering jumping on the bandwagon to improve your homes' indoor air quality with a single product that won't break the bank, then you have come to the right place. More often than not, indoor air quality or IAQ is overlooked since homeowners typically rely on their standard one-inch HVAC air filter to provide their homes with optimal indoor air quality. In addition, homeowners should be aware that the common household air filters are only designed to keep the HVAC unit itself clean, but not much more. Thus, they don't improve the overall air quality in our homes.
However, a media air filter is a new player in the home heating and cooling game. A media air filter is a box separate from your HVAC system that has more layers of hepa air filters for the dirty air to travel through before being released back into your home's air circulation. Because these air filters are 85% more effective than a traditional air filter, many homeowners are beginning to see and feel the benefits of owning a whole home media air filter.
Our Whole-House Air Cleaner Deal includes the following:
Up to 85% more effective than regular air filters
Cleans the air in all the various rooms throughout your residence
Meets American Lung Association guidelines
Lasts up to four times longer than the usual one-inch furnace filter. Needs changed around every 6 to 12 months unlike the standard monthly or quarterly replacement filters
Five Star Is the Top-Choice for iWave-R Air Purifier Services in Gahanna, OH
The iWave-R is an effective air cleaner and popular HVAC product homeowners are enjoying throughout Ohio. This relatively small and very quiet device is installed in an HVAC unit and works similar to how nature works to clean the air in your home and keep it clean. It is successful in removing viruses, mold, pathogens, bacteria and other allergens as they pass through the iWave-R's ion field. The iWave-R effectively neutralizes anything and everything that passes through your air ducts. This also includes things that cause odors and smoke. Overall, this IAQ product is affordable, effective and easy to install. It's great because it runs smoothly and performs quietly, without creating any harmful byproducts such as ozone gas. Ultimately, one of the biggest perks is that this product never needs any upkeep or maintenance.
Check out our iWave-R Installation Deal:
Easy to install into residential AC units
Self-cleaning design
No maintenance required
Universal Voltage Input – 24 VAC to 260 VAC
Reduces allergens, smoke, odors, static electricity, and airborne particles
Kills mold, viruses, and bacteria
No replacement parts are ever required
Why is Five Star Gahanna the Top-Choice for UV Light Services?
When Ultra Violet lights were invented, they were only strictly used in medical facilities like hospitals or laboratories. However, that quickly changed when we discovered how effective they were at sterilizing the air flowing through a building. As a result, many homeowners wanted to take that innovative technology and apply it to their households. Thus, began the usage of UV Lights in HVAC equipment.
When Uv Lights are used simultaneously with your home's heating and cooling system, it creates the most optimal indoor air quality. In addition, the function of the UV Light sanitizer is perfect for UV Light disinfection that eliminates mold, bacteria, viruses, pathogens, mildew, and more within the air circulation of your home, making it an excellent investment for you, your home, and your family.
If you are thinking about investing in UV Lights for your home, give Five Star Pataskala Furnace & Air Conditioning a call. We are one of the only HVAC companies in the business that sells and installs UV Lights into your current HVAC equipment, making it easier for your home to have five-star IAQ!
Check out our Blue Tube UV Light Installation Deal:
Whole-House UV Germicidal Light Filtration System Installation
18 inch field control UV Light for existing HVAC unit
Columbus, Ohio HVAC Deals
As part of our commitment to customer satisfaction, we believe you shouldn't have to break the bank on unexpected HVAC repair or replacement costs. Because of this, we offer special online deals and financing options that our competitors can't beat. We have deals for every situation you may need, from a diagnostic service call to a humidifier installation. Claim a deal today – these offers won't last forever!
$0 Instant Online Estimate
$69 Furnace Tune-Up + Safety Check
Whole-Home Protect Membership
Free Service Call (With Paid Repair)
Pataskala Furnace Repair & Air Conditioner Repair
If your air conditioner, furnace, or both is constantly giving you trouble, it may be time to call the HVAC professionals. Five Star Pataskala Furnace & Air Conditioning offers around-the-clock service 24 hours a day, 7 days a week, and 365 days a year. On top of that, we are open on weekends and holidays, and we provide extended hours for customer support. Our services include seasonal maintenance for all HVAC systems, air conditioner, furnace, heat pump installations, and repairs for any HVAC brand. We understand how hard our customers work to make their homes fit their lifestyle, and that is why we take pride in the fact that we guarantee 100% customer satisfaction on every job we do, big or small.
So, if you find yourself needing help with anything HVAC-related and want Five Star service by a certified HVAC professional that is fast and affordable, call Five Star Pataskala Furnace & Air Conditioning today. Remember: we are not comfortable until you are.
$69 Furnace Tune-Up + Safety Check
Save $60 | Regular $149
Residential Furnace Repair & Heating System Repair in Pataskala, OH
There are many different types of home heating systems and brands of HVAC equipment homeowners can choose from. However, regardless of the kind of furnace you own, Five Star Pataskala Furnace & Air Conditioning provides all types of furnace services on all types of equipment. We offer complete furnace installation, furnace repair, and furnace tune-ups and safety checks. We know that all homeowners work hard to keep their homes warm and cozy during the winter months, and unfortunately, our furnaces are not on a set schedule. So, our home heating systems tend to break down at the most inconvenient times. We understand that every home is different, so we make our furnace services different by making our heating services available 24/7, 365 days a year.
If you own a home and reside in Pataskala, Ohio, or any of the surrounding areas, and you are encountering any type of furnace issues like a bad switch, burner, pilot light, or anything else. In that case, your trusted friends at Five Star are one quick and easy phone call away.
As part of our Furnace diagnostic service call, we:
Assess the entire heating system
Check various components
Run furnace diagnostics
Use volt meter and temperature probes as needed
Locate what's not working within manufacturer's specifications
Residential Air Conditioner Repair & Cooling System Repair in Pataskala, OH
If you find yourself searching Google for "air conditioning repair near me," then you have come to the right place. Our trusted team of highly trained professionals at Five Star Pataskala Furnace & Air Conditioning are here for you and offer 24-hour air conditioning services, including nights, weekends, and even holidays. We understand that an a/c repair can happen any time; we don't stop working just because your air conditioning does. Every air conditioning repair job we do is completed by an expertly trained, insured by a NATE-certified technician. Because of this, our customers can count on the fact that they are getting the best air conditioning repair service in the HVAC business. Customer satisfaction is always guaranteed.
As part of our A/C diagnostic service call, we:
Assess the entire AC unit
Check various components
Run air conditioner diagnostics
Use a volt meter and temperature probes as needed
Locate what's not working within the manufacturer's specifications
We Offer Simple HVAC Financing
If you're looking for some financial assistance in upgrading your home's HVAC system or need time to cover the cost of repairs, we encourage you to check out our financing options. We at Five Star Heating & Cooling have worked with local financial institutions to assist our customers for years. Learn more about our financing options today!
We Service All HVAC Brands
Furnace Maintenance & A/C Maintenance Services in Pataskala, OH
Did you know that you can lessen the chance of an A/C or Furnace malfunction by up to 95% just by keeping up with your HVAC system's proper maintenance? Furthermore, residential homeowners can decrease their monthly energy and utility bills by as much as 30% just by scheduling their yearly preventative seasonal maintenance for both of their heating and cooling systems. Seasonal maintenance consists of Tune-Ups, Check-Outs, Inspection and Safety Checks for your furnace and air conditioning units. Keep in mind, when you regularly maintain your home's heating and cooling systems, it will make your HVAC system last longer and have fewer problems. Thus, saving homeowners energy, time, and money.
Five Star Pataskala Furnace & Air Conditioning offers annual preventative seasonal maintenance on all makes and models of furnaces and air conditioners. On top of that, Five Star Pataskala Furnace & Air Conditioning provides homeowners with special financing that will fit their lifestyle as well as their budget. Taking advantage of our special financing options on the industry's most popular brands of HVAC systems can cut your costs down even lower. Remember, purchasing an HVAC system is an investment in the overall future of your home, so why not treat it like one? Your home heating and cooling system needs to be taken care of properly to increase its lifespan. You can do this by scheduling a professional to maintain your system at least once a year, which is a sure-fire way to ensure homeowners are getting the most out of your investment.
Residential Furnace Maintenance & Heating System in Pataskala, OH
If you find yourself consulting Google to ask, "How long does a furnace last?" There's a good chance you are beginning to have issues with your home heating system, and you will need a new furnace or maintenance soon. Considering the fact that your home heating system is a considerable investment for the value and the overall comfort of your home, it is crucial for homeowners to take proper care of their HVAC systems by scheduling their annual tune-up and safety check. Unfortunately, the fact of the matter is, it is common among many homeowners to neglect their furnace maintenance until it is too late
However, regardless if you need gas furnace maintenance or electric furnace maintenance, Five Star Pataskala Furnace & Air Conditioning can handle all things furnace-related. Our team is dedicated to customer satisfaction and is here to help your home get to the comfort level you and your family deserve.
As part of our Furnace Tune-Up + Safety Check, we:
Clean and adjust ignition/pilot assembly
Clean indoor unit and fan's blower motor
Make sure there's proper and adequate ventilation
Cleaning and adjusting main gas burners on furnace
Examining, tightening and adjusting electrical fittings
Calibrating the furnace's controls for maximum efficiency
Test safety controls, switches, and motors to confirm proper function
Measuring electrical draw on motors to confirm they are within safe operating ranges
Residential Air Conditioner Maintenance & Cooling System in Pataskala, OH
We know that all homeowners want to save money without compromising the overall quality of their residential HVAC system. However, when it comes to the overall effectiveness of your home cooling system, it is essential to be proactive in scheduling and completing your ac maintenance services. Keep in mind; this AC Maintenance needs to be done at least once a year. During your scheduled air conditioner maintenance appointment, a certified technician will examine and inspect your AC unit to ensure there isn't any noticeable wear and tear in or on your HVAC unit. Additionally, our air conditioner maintenance appointments include an A/C Tune-Up + Check Out.
As part of our A/C Tune-Up + Check Out, we:
Check A/C Air Filter and replace if needed.
Recharge refrigerant, also known as coolant
Check and lubricate blower and a/c condenser fans
Clean a/c evaporator and condenser coils.
Check and clean the a/c drain line and drain pan.
Check the thermostat and test for proper operation.
Inspect electrical components, controls and all wiring.
Inspect and clean all air registers and check air flow and ductwork.
HVAC Installation You Can Trust
When you need to replace an HVAC system, you need an HVAC expert. Five Star Heating & Cooling offers full HVAC system replacement and HVAC installation at the most competitive prices in Greater Columbus and surrounding areas. We install all the top-quality brands of HVAC equipment, and we offer free in-home consultations and free estimates. All of our work is backed by a 100% customer satisfaction guarantee. We proudly carry equipment from top names such as Amana®, Goodman®, Lennox®, and much more.
$0 Instant Online Estimate
Get a free quote today!
Residential Furnace Installation & Air Conditioner Installation Services in Pataskala, OH
Do you constantly find yourself wondering if your HVAC system is on its last leg? If so, it might be time for you to consider investing in a modern home heating and cooling system. More often than not, homeowners want to try to repair their current system before they decide to buy a new one; however, if your HVAC system is over 10 years old, you may end up putting more money into fixing it and keeping it in commission than replacing it.
Keep in mind that HVAC systems are not built to last as long as the structure of your home. Moreover, the technology associated with our home heating and cooling systems and how we can set our homes to our perfect comfort level while saving energy, time, and money are constantly improving. Additionally, newer systems can learn your home comfort preferences and create a schedule that is tailored to your specific household. You can even set the thermostat in your home remotely while you're away from home.
At Five Star Pataskala Furnace & Air Conditioning, we take pride in the fact that regardless of the situation, we stick to our principles of honesty, integrity, and the industry's lowest prices with no strings attached. We are committed to giving all of our customers the Five Star treatment no matter the job, big or small. We want you to feel confident in your decision to trust us with the comfort of your home, and we want to create a positive relationship that will last for years to come.
Residential Furnace Installation & Heating System Replacement in Columbus, OH
At Five Star Pataskala Furnace & Air Conditioning, we know that a new furnace cost and a furnace replacement cost tend to be on the higher end of the spectrum. Additionally, finding a trustworthy HVAC company to complete a furnace installation at a fair price is like finding a needle in a haystack. Thank God for the Internet! Five Star Pataskala Furnace & Air Conditioning, as part of the Five Star Family, has been a trusted family-owned residential HVAC company for years! We understand that investing in a new furnace can be stressful, and we strive to make this process as seamless as possible. We put a positive experience and customer satisfaction above all else. So, if you need a furnace replacement or installation, trust the experts and Experience the Five Star Difference today!
Residential Air Conditioner Installation & Cooling System Replacement in Pataskala, OH
If you have lived in your home for quite some time, chances are, your home is equipped with an air conditioner that came with the house. At this point, if you are contemplating whether or not you need to invest in a full air conditioner install or an air conditioner replacement, you're in the right place. We can help! Keep in mind, when making this decision, it is important to think about replacing both HVAC systems at the same time. Doing so will help keep your overall energy and utility costs low, as well as getting your furnace and air conditioner on the same life cycle.
At Five Star Pataskala Furnace & Air Conditioning, we recognize that the average cost of a furnace and air conditioner replacement or an ac installation can be steep. That's why we sell the top-of-the-line air conditioner replacement and air conditioning install brands and equipment guaranteed the lowest prices in the HVAC business. Give us a call today if you're thinking about upgrading your A/C! We have online deals for high quality A/C equipment at special rates. We offer a Best Price Guarantee and take your business seriously!
Tips & Tricks for Ohio Homeowners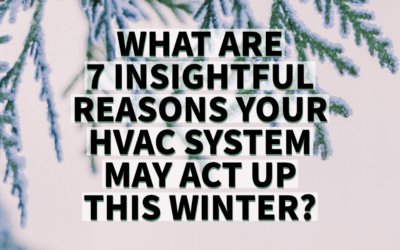 Ohio is well known for its cold weather. We are in the coldest season of the year, and...
read more